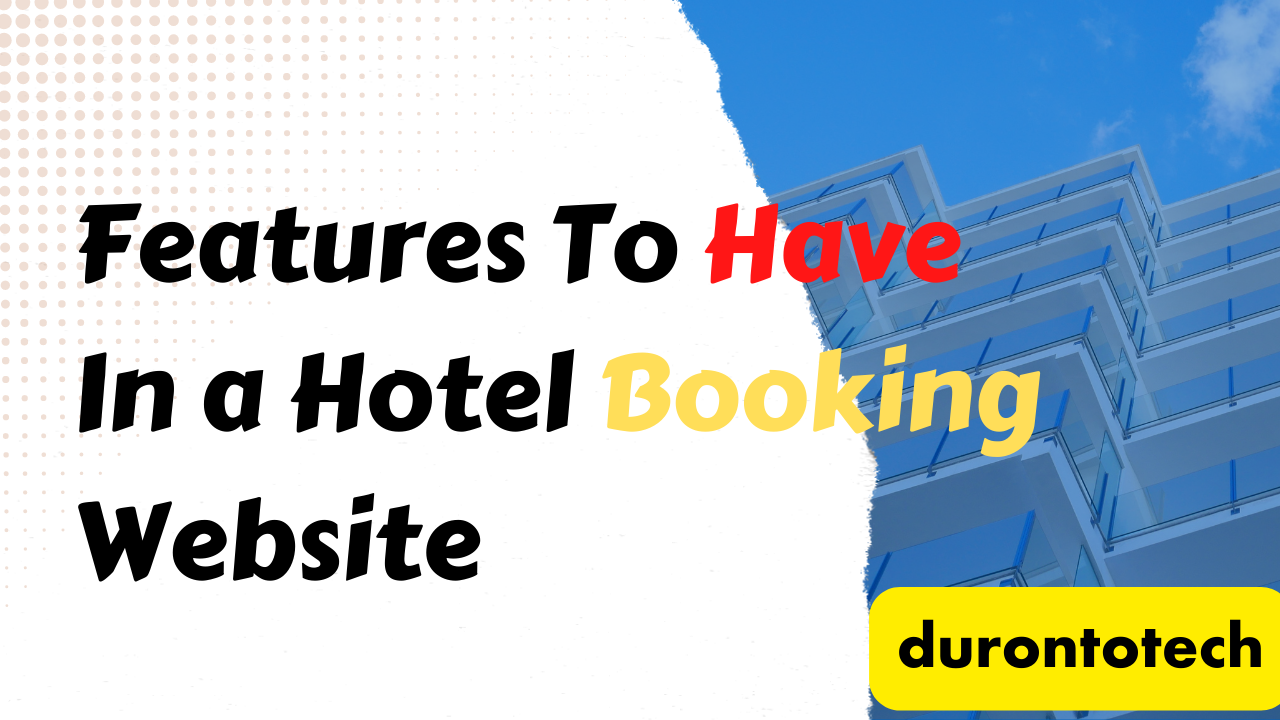 Introduction
Do you want to create a hotel booking website with an intuitive booking experience? If so, make sure it has all of the features you need to provide an excellent user experience. That's where our guide to Hotel Booking Website Features comes in. We'll show you how to make a great UI/UX, give you some pointers, and highlight the features you'll need to build a successful hotel booking website. We'll assist you in creating the ideal user experience, from a user-friendly booking system with an easy checkout process to providing detailed hotel information. We will also assist you in developing custom filters that will allow customers to quickly and easily find the ideal hotel for their needs. Your system should be able to onboard new users and serve a global audience for room reservations
You'll be able to provide an excellent experience for your customers once you've implemented these features. Some must-have features are discussed and some UI UX guidelines are given here. A complete and comprehensive guideline is given for growing your reservation business.
Some Must Have Important Features for one online booking system such as: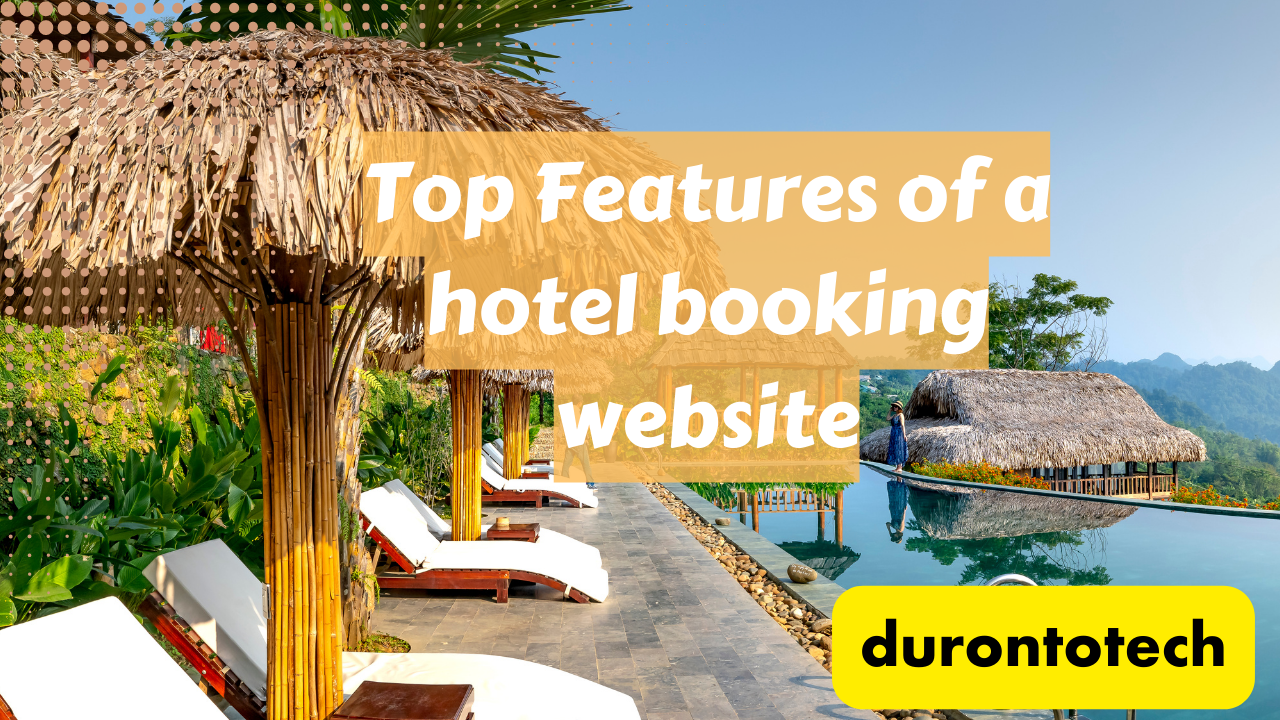 Search, Online Booking, Price comparison, Reviews, Ratings, Rewards, map feature, commonly asked questions(faq page), terms and conditions, easy way to communicate with support teams, etc. There would be two types of features always in any management system, one on the client end, or for a client, and one for the internal use of management. To run your online bookings via one booking software if you are one online travel agent or if you have one/two resorts/hotels that now want to automate them, please read carefully.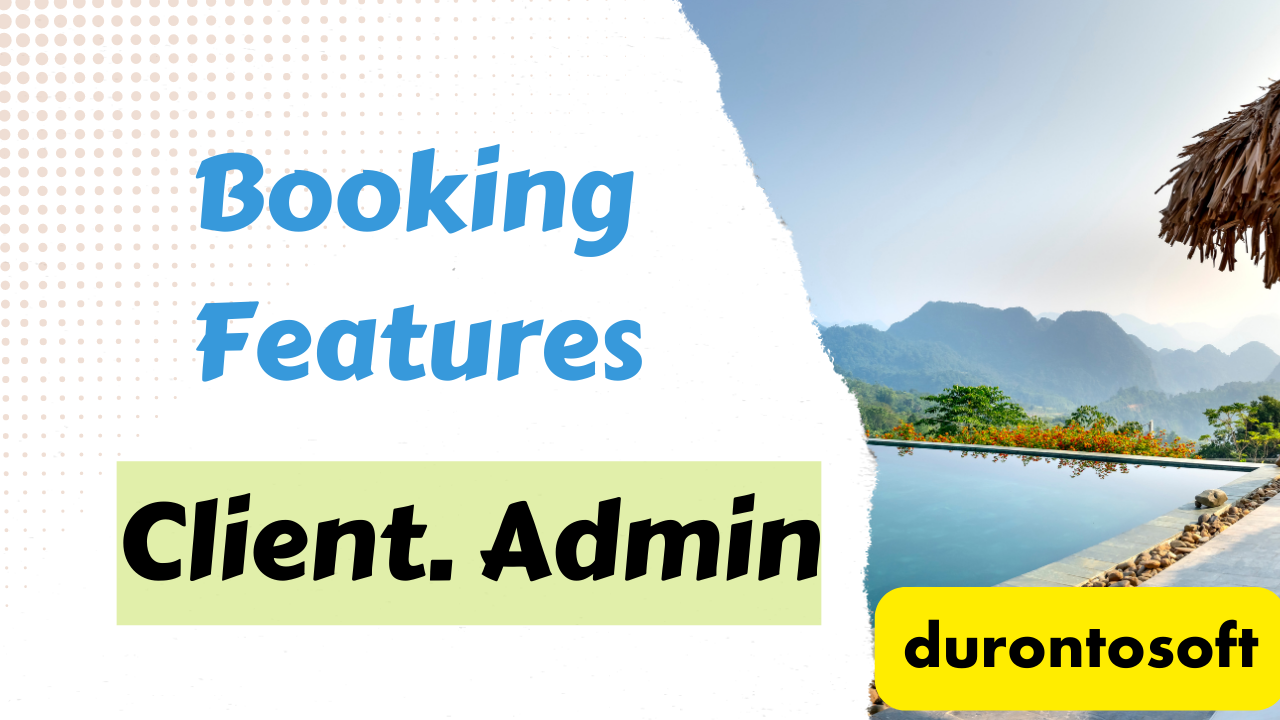 To manage reservations, and let people manage their online travel via one online booking system is quite a time taking task. You need to have a set of features and easy user flow in automation software to solve a pain point.
Some Features For Clients
Search functionality: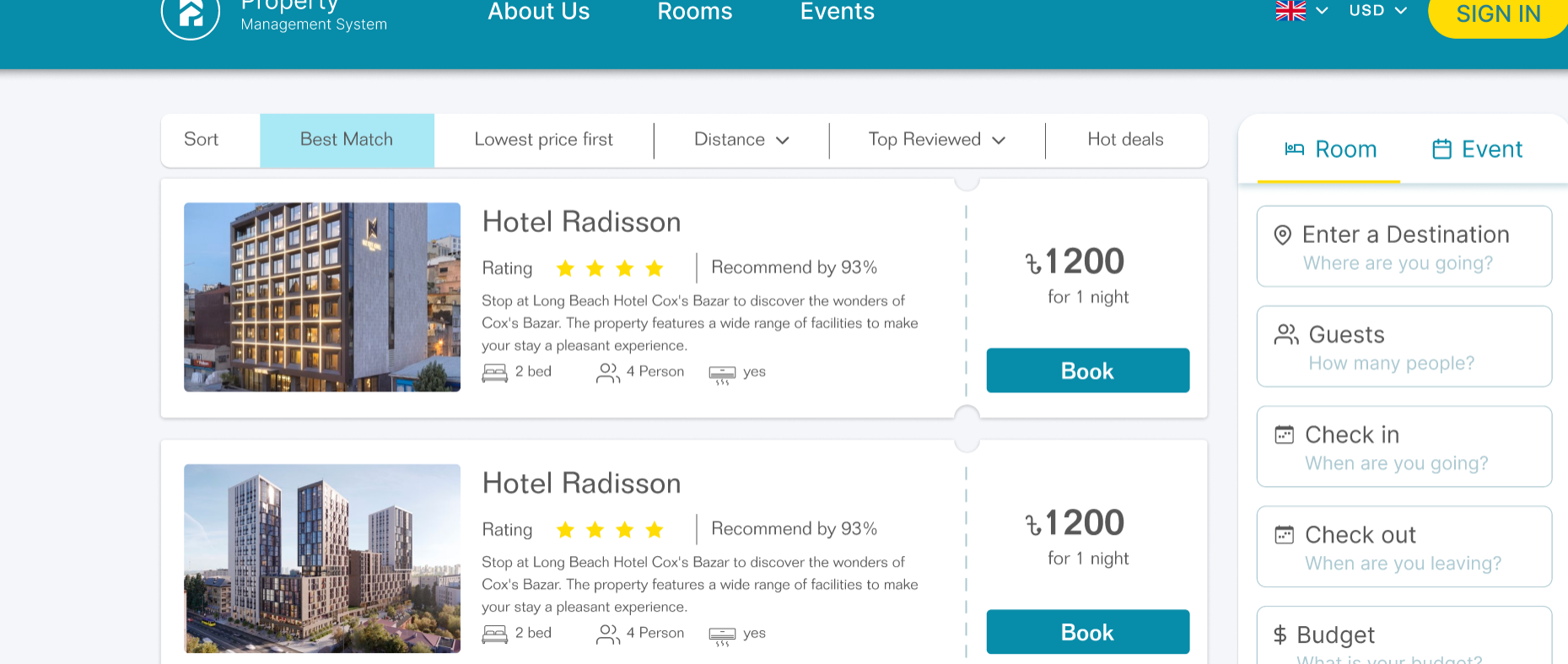 Allows users to search for available hotels in a specific location and with certain amenities.
Search functionality is an important feature in a hotel booking website because it allows users to easily find available hotels in their desired location. Without a search feature, users would have to manually browse through a list of all the hotels on the website, which could be time-consuming and frustrating.
A good search feature allows users to specify their location, dates, number of guests, and other preferences such as room type, price range, and amenities. This helps users find the most suitable hotels that meet their needs and preferences.
Additionally, search functionality can help increase the usability and user-friendliness of a hotel booking website, as it allows users to quickly find what they are looking for without having to navigate through multiple pages or menus. This can ultimately lead to higher conversion rates and more bookings for the website.
Online booking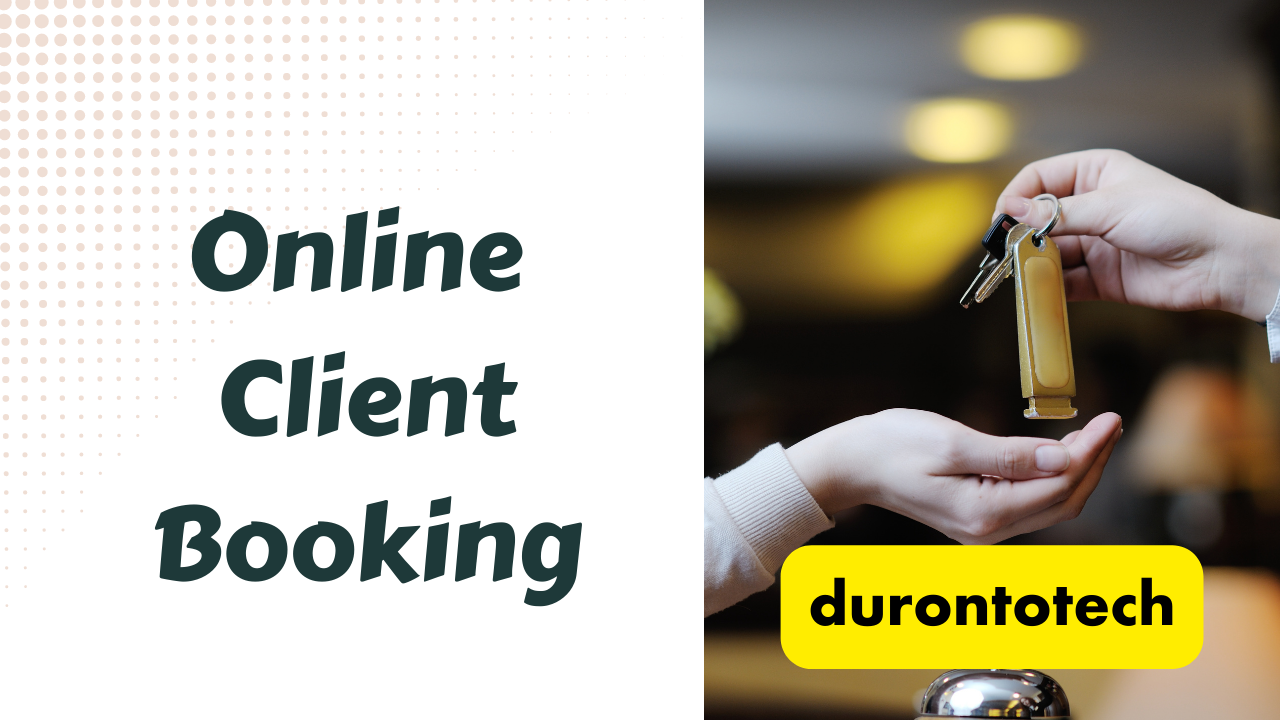 Allows users to book a hotel room directly through the website, often with the option to pay online or at the hotel. It allows users to easily book a hotel room directly through the website. This is convenient for both the user and the hotel, as it eliminates the need for phone calls or in-person visits to make a booking.
Some benefits of online booking include:
Convenience
Users can make a booking from anywhere at any time, as long as they have an internet connection.
Speed
Online booking is usually faster than booking over the phone or in person, as it eliminates the need for back-and-forth communication. many repeatedly asked questions can be answered via one simple faq page!
Accuracy
Online booking reduces the risk of errors, as the user can enter their information directly into the website rather than relying on someone else to input it for them.
Payment options
Online booking often allows users to pay for their booking directly through the website, using a credit card or other payment method. This is convenient for users and can also help reduce the workload for the hotel. Overall, online booking is an important feature of a hotel booking system because it makes the booking process more efficient and convenient for both users and hotels. Often multiple payment options are good to have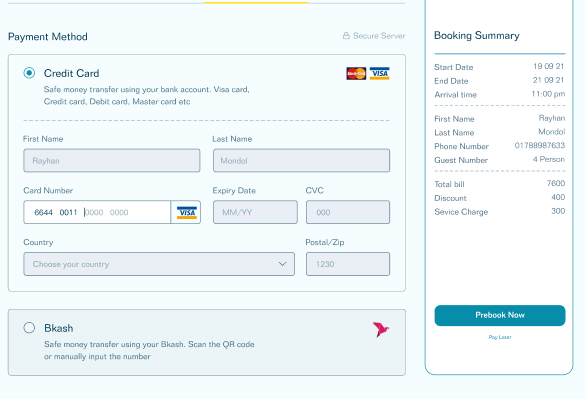 Price comparison:
To compare prices for different hotels and room types to find the best deal.
Reviews and ratings: 
Reviews and ratings are important in a hotel booking system because they provide valuable information to users about the quality of the hotel and the experience of other travelers. This can help users make an informed decision about which hotel to book and can also improve the credibility and trustworthiness of the website. online reviews and rating increases users expect.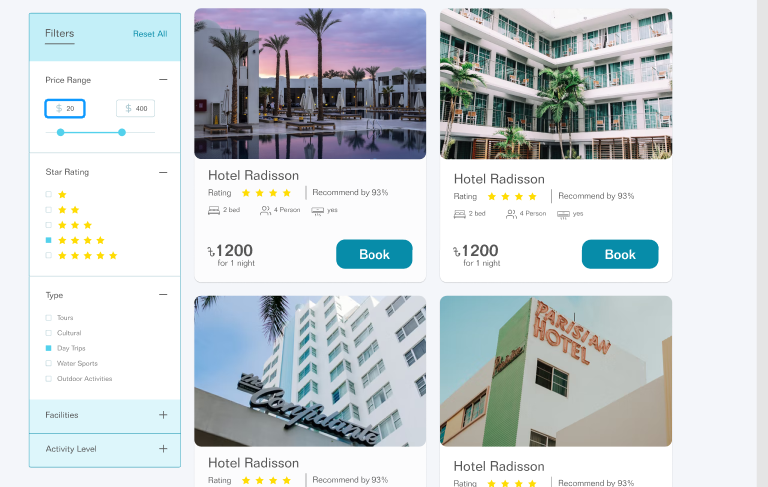 Some specific benefits of including reviews and ratings in a hotel booking system include
Increased credibility
By displaying reviews and ratings from other travelers, a hotel booking website can demonstrate that it is a reliable and trustworthy source of information.
Improved customer experience:
Reviews and ratings can help users find hotels that are a good fit for their needs and preferences, which can lead to a better overall customer experience.
Increased transparency:
Reviews and ratings allow users to see the pros and cons of different hotels, which can increase transparency and help users make more informed decisions.
Customer feedback:
Reviews and ratings provide a platform for customers to share their feedback and experiences with the hotel, which can be valuable for hotels to improve their service and amenities. Overall, including reviews and ratings in a hotel booking system is important because it helps users make informed decisions and can improve the overall user experience and credibility of the website.
Rewards programs: Some hotel booking websites offer loyalty rewards programs or other perks for frequent travelers.
Maps and directions: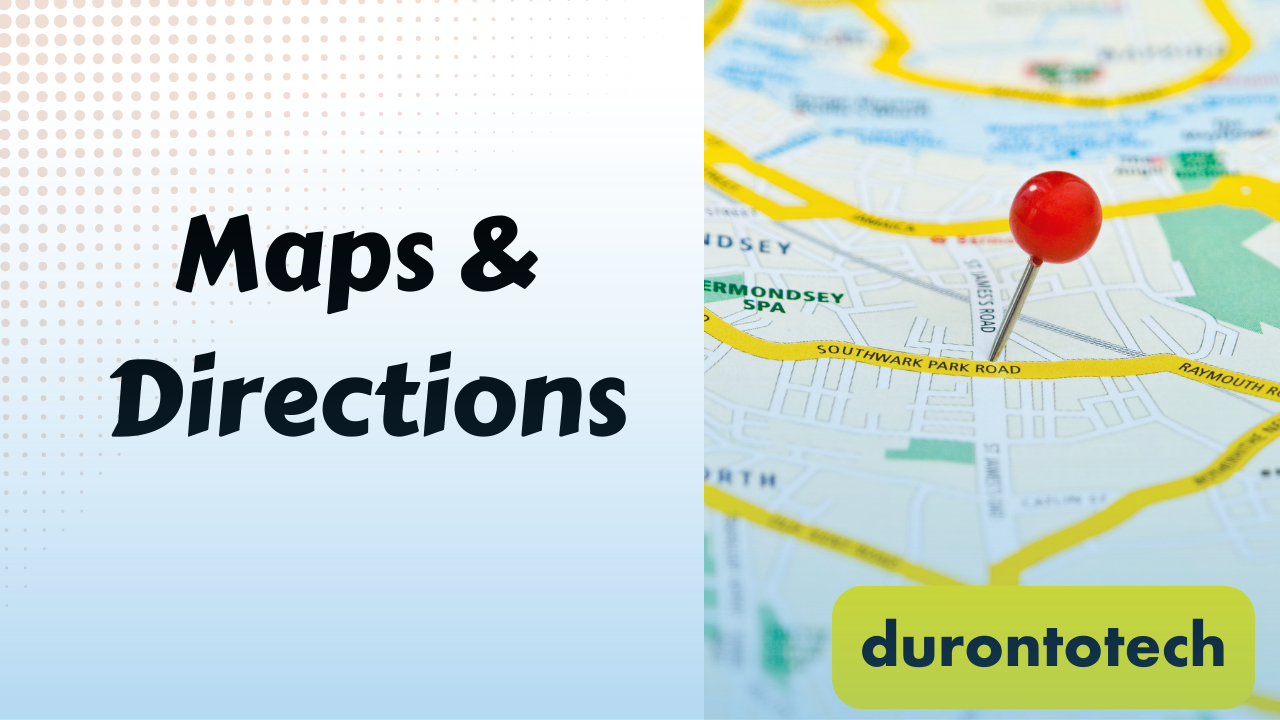 Provides users with maps and directions to the hotel, as well as information about nearby attractions. To implement the maps and directions feature in a hotel booking website, you can use a mapping service such as Google Maps or Mapbox. These services provide APIs (Application Programming Interfaces) that allow you to embed a map into your website and customize it with your own markers and information.
Here are the steps you can follow to implement maps and directions feature in a hotel booking website:
Map settings in a admin panel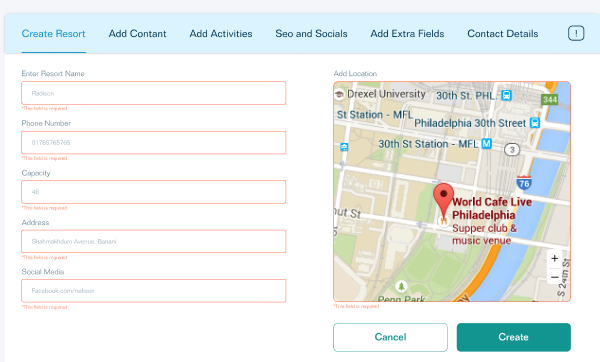 Sign up for a mapping service and obtain an API key. This will allow you to access the mapping service's features and use them on your website.
Choose a map library or plugin that you will use to embed the map into your website. There are several options available, such as the Google Maps JavaScript API or the Mapbox GL JS library.
Add the map library or plugin to your website and initialize it with your API key. You can do this by including the library or plugin in the HTML of your website and calling the appropriate functions.
Add a map element to your website. This can be an HTML div element or a canvas element, depending on the library or plugin you are using.
Customize the map with your own markers and information. You can use the mapping service's API to add markers to the map, customize the appearance of the markers, and add pop-up boxes or other information when the markers are clicked.
Add directions feature to the map. You can use the mapping service's API to calculate and display directions between two points, such as the hotel and the user's current location.
Customer service: Many hotel booking websites offer customer service through phone, email, or live chat to assist with bookings or answer any questions.
Some design guidelines for a hotel booking website:
Make it easy to use: The booking process should be intuitive and straightforward, with clear calls to action and minimal steps.
Provide relevant information: Display important information about the hotel, such as room types, amenities, and policies, so that users can make an informed decision.
Use high-quality images: Use high-resolution images of the hotel, rooms, and amenities to give users a better idea of what to expect.
Include customer reviews: Display customer reviews and ratings to help users make a decision and build trust in the hotel.
Make it mobile-friendly: With more and more users accessing the internet from their smartphones, it's important to design the website to be mobile-friendly.
Use clear headings and typography: Use clear headings and legible typography to make it easy for users to navigate and find the information they need.
Use white space effectively: Use white space to separate different sections and draw the user's attention to important information.
Use a consistent design: Use a consistent design throughout the website to create a cohesive user experience.
Use simple, concise language: Use simple, concise language to convey information and make it easy for users to understand.
An FAQ (Frequently Asked Questions) section (faq pages can contain more sections and points based on your need)
On a website or in an application is a list of common questions and answers that are relevant to the product or service being offered. An FAQ section can be a useful tool for providing information to customers and helping them to understand how to use the product or service.
There are several benefits
to have an FAQ section, including:
Improved customer satisfaction: This will provide customers with the information they need to understand and use the product or service, which can lead to improved satisfaction.
Reduced workload: This can help to reduce the workload of customer service staff by providing answers to common questions, allowing them to focus on more complex or specific inquiries.
Increased efficiency: this will improve the efficiency of the customer service process by providing a centralized location for answers to common questions, which can help to reduce the time and effort needed to resolve customer inquiries.
Improved credibility: It can establish the credibility of the product or service by providing clear and accurate answers to common questions, which can help to build trust with customers.
Enhanced user experience: It can improve the overall user experience by providing clear and concise information that is easy to access and understand, which can help to make the product or service more user-friendly.
An FAQ Here is some examples of what could be included in an FAQ section:
How do I search for and book a hotel?
How do I view and compare prices?
How do I pay for my booking?
Can I cancel or modify my booking?
How do I redeem rewards or loyalty points?
What is the hotel's cancellation policy?
How do I contact customer service?
Are there any additional fees that I should be aware of?
What are the check-in and check-out times for the hotel?
How do I request special accommodations or amenities?
How do I know about booking confirmations
How do I apply promo codes?
An FAQ section should be organized in a clear and easy-to-navigate manner, with the questions and answers presented in a concise and straightforward way. It should also be regularly updated to ensure that the information provided is accurate and relevant.
Some Related Questions and answers
How do hotel booking websites work?
A web-based booking service connects your website to process secure online reservations on our site. This information is then passed on to your property manager to enable the booking to happen. The Reservations feature makes reservations easy.
What are the advantages of booking sites?
Online booking systems allow guests to book a room at any time and from any location, which can be more convenient than calling or visiting the hotel in person. the online booking system can make it easier for guests to book a room at your hotel, which can lead to increased bookings and revenue. Automated systems can reduce workload can reduce the risk of errors and misunderstandings, as all of the necessary information is captured electronically. Data analysis: From valuable data on your guests' preferences and booking habits, which can help you to optimize your marketing and pricing strategies. You will also be able to save booking data for further use in marketing and analysis.
Some of the best Market leaders and Inspirations
Here are some features that an admin panel for a hotel booking system might include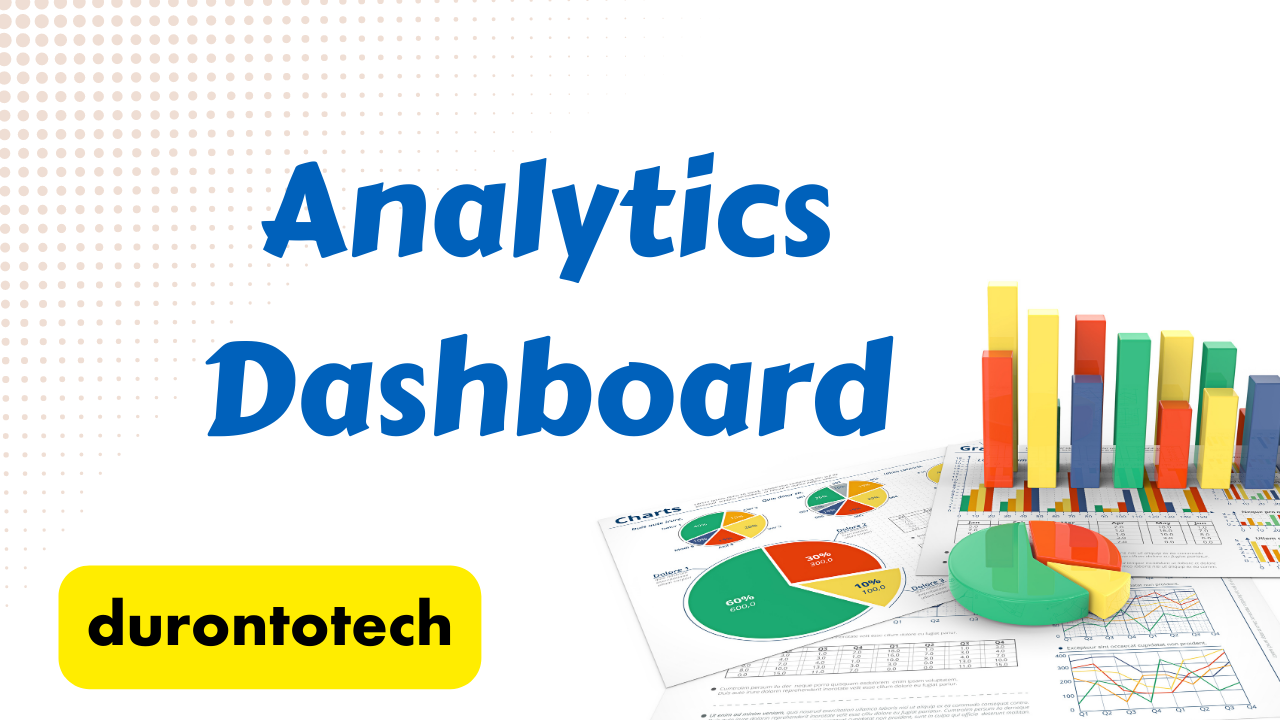 Booking management Dashboard
A dashboard is a feature in a booking automation system that provides an overview of key metrics and data in a visually appealing and easy-to-understand format. It can be a useful tool for hotel owners, managers, and staff to get a quick and accurate overview of the hotel's performance and make informed decisions about operations and strategy.
The dashboard will Improve efficiency via a quick and easy way to access important data, which can help to improve efficiency and reduce the time and effort needed to make decisions. A dashboard can provide a comprehensive view of key metrics and data, which can help hotel staff to better understand the hotel's performance and identify areas for improvement. data and insights from the dashboard that can inform decision-making, allowing hotel staff to make more informed and data-driven decisions about operations and strategy. to improve communication within the hotel by providing a centralized location for key metrics and data, which can help to ensure that all staff members are on the same page.
Reservations
Room Management
Guest Management
Payment Processing
Marketing and Promotions
Reporting
Inventory Management
User Management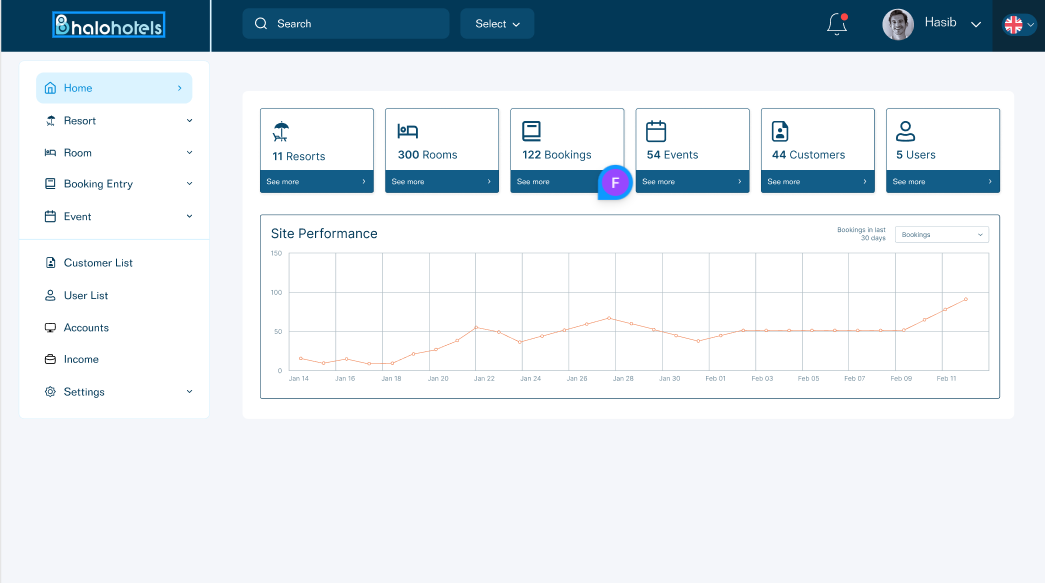 Online travel agents, will require to have a hotel booking facility for multiple hotels, Which means you can have multiple hotels created in your online booking system. you will need more details faq page probably per hotel based. It's also extremely important to have CRM for channel management.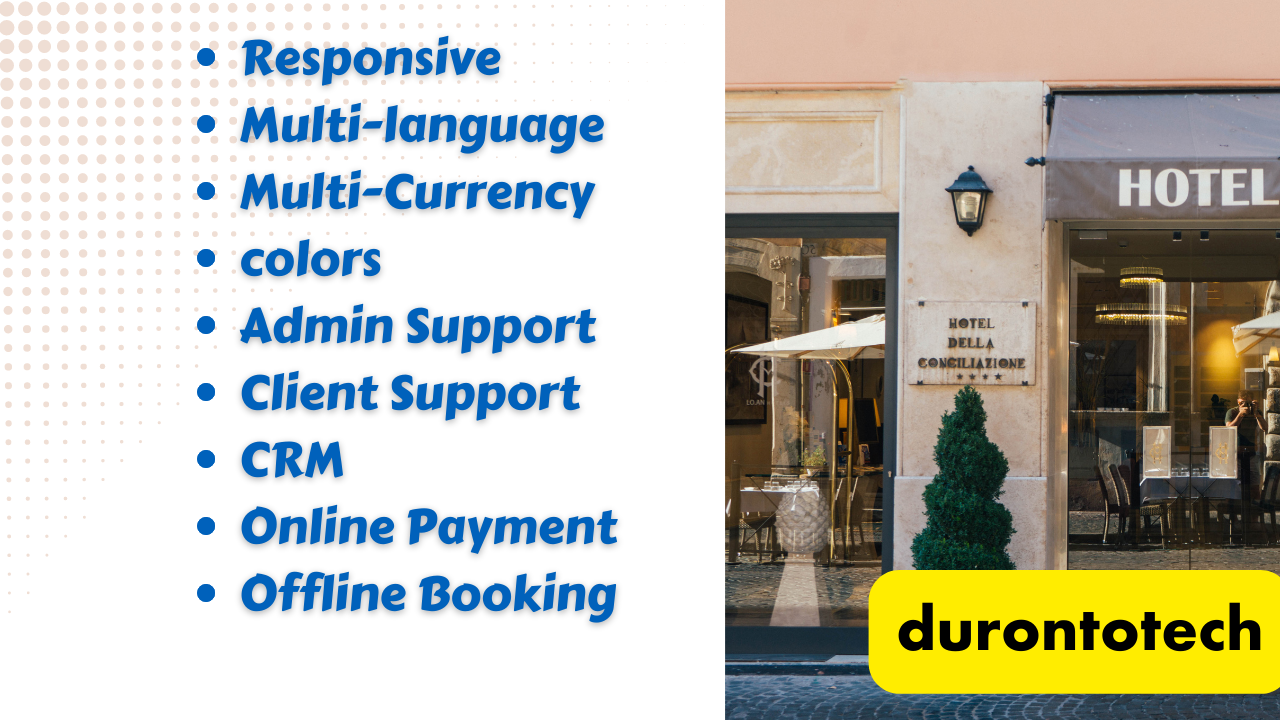 Conclusion
In summary, a hotel booking website or booking software is not that easy to build, you need an expert who knows all manual SOP (Standard operating procedures), Some software engineers who know how to build booking software. All people who know the system and have a good amount of domain knowledge about hotel bookings, online travel, reservation and can understand the pain of booking rooms online and can solve them. There are some other important features and other details that are not discussed in detail like currency settings destinations settings, trip making or recommendation, preferred language booking confirmation mail template, etc. Will try to cover them in the next blog. You also should try to get some idea about must-have features from other information sources (use dribble, Pinterest, and Behance ). I hope that blog helps to grow your business.